The Hangover Part III
(R)
Rated for pervasive language including sexual references, some violence and drug content, and brief graphic nudity

Bradley Cooper, Ed Helms
-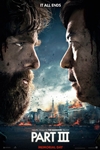 After the death of his father, Alan turns to the Wolfpack in his time of grief. This time, there's no wedding, no bachelor party - just one simple road trip. What could possibly go wrong?
Official Site
Trailer
---
Epic
(PG)
Rated for mild action, some scary images and brief rude language

Beyonce Knowles, Colin Farrell
- 1 hr. 42 mins.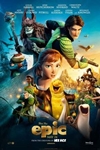 When a teen age girl finds herself magically transported into this secret universe, she must band together with a rag-tag team of fun and whimsical characters in order to save their world... and ours.
Official Site
Trailer
---
Fast & Furious 6
(PG-13)
Rated for intense sequences of violence and action and mayhem throughout, some sexuality and language

Vin Diesel, Paul Walker
- 2 hr. 25 mins.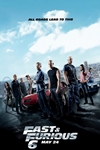 Since Dom and Brian's Rio heist toppled a kingpin's empire and left their crew with $100 million, our heroes have scattered across the globe. But their inability to return home, and forever living on the run, has left their lives incomplete.
Official Site
Trailer
---
After Earth
(PG-13)
Rated for sci-fi action violence and some disturbing images

Will Smith, Jaden Smith
- 1 hr. 40 mins.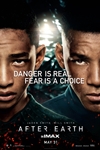 A crash landing leaves teenager Kitai Raige and his legendary father Cypher stranded on Earth, 1,000 years after cataclysmic events forced humanity's escape.
Official Site
Trailer
---
Now You See Me
(PG-13)
Rated for language, some action and sexual content

Mark Ruffalo, Jesse Eisenberg
-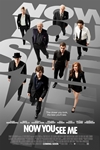 A team of FBI agents track a group of illusionists who pull off daring bank heists during their performances.
Official Site
Trailer
---
The Internship
(PG-13)
Rated for sexuality, some crude humor, partying and language

Vince Vaughn, Owen Wilson
-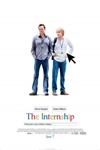 Billy and Nick are salesmen whose careers have been torpedoed by the digital world. They defy the odds by talking their way into a coveted internship at Google, but now they must compete with a group of the nation's most elite, tech-savvy geniuses.
Official Site
Trailer
---
The Purge
(R)
Rated for strong disturbing violence and some language

Lena Headey, Ethan Hawke
-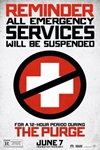 In a futuristic America plagued by crime, the government sanctions a 12-hour period once a year in which all criminal activity is legal. When an intruder breaks into the home of James Sandin and his family, they must try to survive the night without compromising their personal moral code.
Official Site
Trailer
---
This Is The End
(R)
Rated for crude and sexual content throughout, brief graphic nudity, pervasive language, drug use and some violence

James Franco, Jonah Hill
-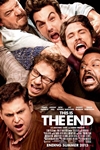 The comedy follows six friends trapped in a house after a series of strange and catastrophic events devastate Los Angeles.
Official Site
Trailer
---