The Boy Next Door
R
for violence, sexual content/nudity and language.


Jennifer Lopez, Ryan Guzman

-

1 hr. 31 mins.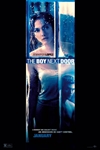 A psychological thriller that explores a forbidden attraction that goes much too far.
Official Site
Trailer
---
Strange Magic
PG
for some action and scary images


Alan Cumming, Evan Rachel Wood

-

1 hr. 39 mins.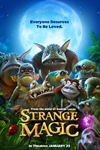 This is a madcap fairy tale musical inspired by 'A Midsummer Night's Dream.' Popular songs from the past six decades help tell the tale of a colorful cast of goblins, elves, fairies and imps, and their hilarious misadventures sparked by the battle over a powerful potion.
Official Site
Trailer
---
American Sniper
R
for strong and disturbing war violence, and language throughout including some sexual references


Bradley Cooper, Sienna Miller

-

2 hr. 14 mins.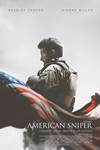 U.S. Navy SEAL Chris Kyle is sent to Iraq with only one mission: to protect his brothers-in-arms. His pinpoint accuracy and courageous exploits earn him the nickname "Legend." However, his reputation is also growing behind enemy lines, putting a price on his head and making him a prime target of insurgents. He is also facing a different kind of battle on the home front: striving to be a good husband and father from halfway around the world. Despite the danger, as well as the toll on his family, Chris serves through four harrowing tours of duty in Iraq, personifying the spirit of the SEAL creed to "leave no one behind". But upon returning to his family, Chris finds that it is the war he can't leave behind.
Official Site
Trailer
---
Paddington
PG
for mild action and rude humor


Ben Whishaw, Nicole Kidman

-

1 hr. 35 mins.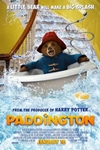 This film tells the story of the comic misadventures of a young Peruvian bear who travels to the city in search of a home. Finding himself lost and alone, he begins to realize that city life is not all he had imagined - until he meets the kindly Brown family who read the label around his neck that says "Please look after this bear. Thank you," and offer him a temporary haven. It looks as though his luck has changed until this rarest of bears catches the eye of a museum taxidermist.
Official Site
Trailer
---
Horrible Bosses 2
R
for strong crude sexual content and language throughout


Jason Sudeikis, Jason Bateman

-

1 hr. 48 mins.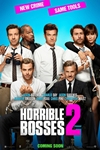 After barely escaping with their lives when their plans to murder their bosses goes out of control, Nick, Dale and Kurt decide that they'll be better off launching a business of their own. But a slick investor has other plans, and when he manages to snake their successful venture right out from underneath them, the three friends launch a not-very-well-thought-out plan to kidnap the investor's adult son and trade him for control of their company.
Official Site
Trailer
---
Penguins of Madagascar
PG
for mild action and some rude humor


Tom McGrath, Chris Miller

-

1 hr. 32 mins.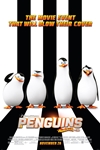 Super spy teams aren't born... they're hatched. Discover the secrets of the greatest and most hilarious covert birds in the global espionage biz: Skipper, Kowalski, Rico and Private. These elitists of the elite are joining forces with a chic undercover organization, The North Wind. Led by handsome and husky Agent Classified (we could tell you his name, but then... you know). Together, they must stop the villainous Dr. Octavius Brine from destroying the world as we know it.
Official Site
Trailer
---