The Boxtrolls
PG
for action, some peril and mild rude humor


Ben Kingsley, Toni Collette

-

1 hr. 40 mins.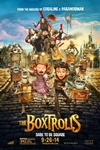 The Boxtrolls, a community of quirky, mischievous creatures, have lovingly raised an orphaned human boy named Eggs in the amazing cavernous home they've built beneath the streets of Cheesebridge. When the town's villain, Archibald Snatcher, comes up with a plot to get rid of the Boxtrolls, Eggs decides to venture above ground, "into the light," where he meets and teams up with fabulously feisty Winnifred. Together, they devise a daring plan to save Eggs' family.
Official Site
Trailer
---
The Equalizer
R
for strong bloody violence and language throughout, including some sexual references


Chloe Grace Moretz, Denzel Washington

-

2 hr. 11 mins.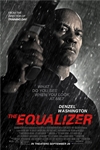 McCall is a former black ops commando who has faked his death to live a quiet life in Boston. When he comes out of his self-imposed retirement to rescue a young girl, Teri, he finds himself face to face with ultra-violent Russian gangsters. As he serves vengeance against those who brutalize the helpless, McCall's desire for justice is reawakened. If someone has a problem, the odds are stacked against them, and they have nowhere else to turn, McCall will help. He is The Equalizer.
Official Site
Trailer
---
The Maze Runner
PG-13
for thematic elements and intense sequences of sci-fi violence and action, including some disturbing images


Dylan O'Brien, Kaya Scodelario

-

1 hr. 53 mins.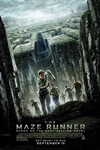 When Thomas wakes up trapped in a massive maze with a group of other boys, he has no memory of the outside world other than strange dreams about a mysterious organization known as W.C.K.D. Only by piecing together fragments of his past with clues he discovers in the maze can Thomas hope to uncover his true purpose and a way to escape.
Official Site
Trailer
---
If I Stay
PG-13
for thematic elements and some sexual material


Chloe Grace Moretz, Mireille Enos

-

1 hr. 46 mins.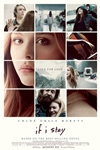 Mia Hall thought the hardest decision she would ever face would be whether to pursue her musical dreams at Juilliard or follow a different path to be with the love of her life, Adam. But what should have been a carefree family drive changes everything in an instant, and now her own life hangs in the balance. Caught between life and death for one revealing day, Mia has only one decision left, which will not only decide her future but her ultimate fate.
Official Site
Trailer
---
Dawn of the Planet of the Apes
PG-13
for intense sequences of sci-fi vioelnce and action, and brief strong language


Andy Serkis, Jason Clarke

-

2 hr. 10 mins.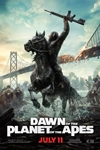 A growing nation of genetically evolved apes led by Caesar is threatened by a band of human survivors of the devastating virus unleashed a decade earlier. They reach a fragile peace, but it proves short-lived, as both sides are brought to the brink of a war that will determine who will emerge as Earth's dominant species.
Official Site
Trailer
---
Earth to Echo
PG
for some action and peril, and mild language


Teo Halm, Brian "Astro" Bradley

-

1 hr. 29 mins.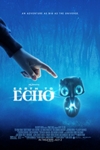 Tuck, Munch and Alex are a trio of inseparable friends whose lives are about to change. Their neighborhood is being destroyed by a highway construction project that is forcing their families to move away. But just two days before they must part ways, the boys begin receiving a strange series of signals on their phones. Convinced something bigger is going on, they team up with another school friend, Emma, and set out to look for the source of their phone signals. What they discover is something beyond their wildest imaginations: a small alien who has become stranded on Earth. In need of their help, the four friends come together to protect the alien and help him find his way home. This journey, full of wonder and adventure, is their story, and their secret.
Official Site
Trailer
---