The Hobbit: The Battle of the Five Armies
PG-13
for extended sequences of intense fantasy action violence, and frightening images


Martin Freeman, Cate Blanchett

-

2 hr. 24 mins.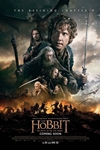 This final battle brings to an epic conclusion the adventures of Bilbo Baggins, Thorin Oakenshield, and the Company of Dwarves. Having reclaimed their homeland from the Dragon Smaug, the Company has unwittingly unleashed a deadly force into the world. Enraged, Smaug rains his fiery wrath down upon the defenseless men, women and children of Lake-town. Obsessed above all else with his reclaimed treasure, Thorin sacrifices friendship and honor to hoard it as Bilbo's frantic attempts to make him see reason drive the Hobbit towards a desperate and dangerous choice. But there are even greater dangers ahead. Unseen by any but the Wizard Gandalf, the great enemy Sauron has sent forth legions of Orcs in a stealth attack upon the Lonely Mountain. As darkness converges on their escalating conflict, the races of Dwarves, Elves and Men must decide: unite or be destroyed. Bilbo finds himself fighting for his life and the lives of his friends in the epic Battle of the Five Armies, as the future of Middle-earth hangs in the balance.
Official Site
Trailer
---
Exodus: Gods and Kings
PG-13
for violence including battle sequences and intense images


Christian Bale, Joel Edgerton

-

2 hr. 22 mins.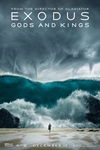 Moses rises up against the Egyptian Pharaoh Ramses, setting 600,000 slaves on a monumental journey of escape from Egypt and its terrifying cycle of deadly plagues.
Official Site
Trailer
---
Penguins of Madagascar
PG
for mild action and some rude humor


Tom McGrath, Chris Miller

-

1 hr. 32 mins.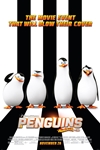 Super spy teams aren't born... they're hatched. Discover the secrets of the greatest and most hilarious covert birds in the global espionage biz: Skipper, Kowalski, Rico and Private. These elitists of the elite are joining forces with a chic undercover organization, The North Wind. Led by handsome and husky Agent Classified (we could tell you his name, but then... you know). Together, they must stop the villainous Dr. Octavius Brine from destroying the world as we know it.
Official Site
Trailer
---
The Hunger Games: Mockingjay - Part 1
PG-13
for intense sequences of violence and action, some disturbing images and thematic material


Jennifer Lawrence, Josh Hutcherson

-

2 hr. 3 mins.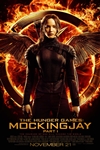 Katniss Everdeen is in District 13, after she literally shatters the games forever. Under the leadership of President Coin and the advice of her trusted friends, Katniss spreads her wings as she fights to save Peeta and a nation moved by her courage.
Official Site
Trailer
---
Alexander and the Terrible, Horrible, No Good, Very Bad Day
PG
for rude humor including some reckless behavior and language


Steve Carell, Jennifer Garner

-

1 hr. 20 mins.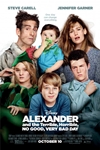 Follows the exploits of 11-year-old Alexander as he experiences the most terrible and horrible day of his young life-a day that begins with gum stuck in his hair, followed by one calamity after another. But when Alexander tells his upbeat family about the misadventures of his disastrous day, he finds little sympathy and begins to wonder if bad things only happen to him. He soon learns that he's not alone when his brother, sister, mom and dad all find themselves living through their own terrible, horrible, no good, very bad day. Anyone who says there is no such thing as a bad day just hasn't had one.
Official Site
Trailer
---
A Walk Among the Tombstones
R
for strong violence, disturbing images, language and brief nudity


Liam Neeson, Ruth Wilson

-

1 hr. 54 mins.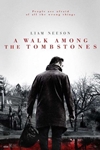 Formerly a detective with the NYPD, now a recovering alcoholic haunted by regrets, Matt Scudder has a lot to make up for. When a series of kidnappings targeting the city's worst drug criminals escalates to grisly murder, the circuit's ruthless leader convinces Scudder to find the culprits and bring them to bloody justice. Working as an unlicensed private detective, Matt sees what the police don't see and treads where they most fear to. Operating just outside the law to track down the monsters responsible, Scudder stops just short of becoming one himself.
Official Site
Trailer
---